Welcome to the home-away-from-home your furry family members deserve. Ellis County Pet Resort is a full-service pet care facility providing high quality dog & cat boarding, fun doggie daycare, and professional dog grooming. Everything we do is for the comfort and happiness of your dogs and cats.
First Night Free Boarding for New Clients!
Try us for free! We can't wait to meet your furry family member.
*Minimum 2 night stay required.* Discount subject to availability and cannot be combined with other offers. Applies to first-time boarding customers only.

Does warehouse-style dog lodging make you put your tail between your legs? Us too. With Ellis County Pet Resort, every pet enjoys a private, comfortable accommodation complete with soft bedding, temperature-controlled surroundings, and soothing music.
At Ellis County Pet Resort, we appreciate the unique needs of kitties. Quiet and comfortably set away from our canine friends, our cat accommodations feature cozy bedding, perching areas, natural sunlight and the right amount of TLC.

Dogs love to play, there're no bones about it. Ellis County Pet Resort gives them a safe and supervised place to exercise, socialize, and have all the fun they crave. Our indoor and outdoor daycare yards give dogs plenty of space to explore.

Our full-service grooming salon is staffed by experienced groomers who use the best products and equipment for your dog. Bring your dog for a complete styling and haircut, a quick trim, relaxing bath, or special spa treatment.

Our dog training team can't wait to help you discover greater understanding and communication with your furry best friend. Our customized training helps dogs of all ages realize the obedience and manners needed to be an even more perfect family companion.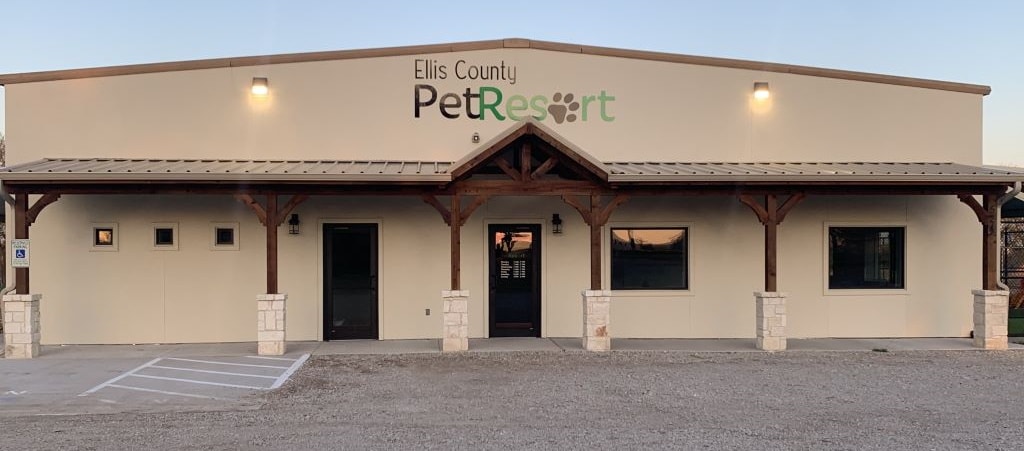 Ellis County Pet Resort was created by Joey and Jessica Gilbreath, both born and raised in Waxahachie. Their careers in pet care began in high school when they both took jobs at the Waxahachie Veterinary Clinic, which was founded by Joey's father Dr. Michael Gilbreath.
As lifelong pet lovers, Joey and Jessica recognized a need in the community for a quality pet care option for conscientious pet parents. They were unsatisfied with the concrete, warehouse-style kennels in the area, and knew local pets deserved better.